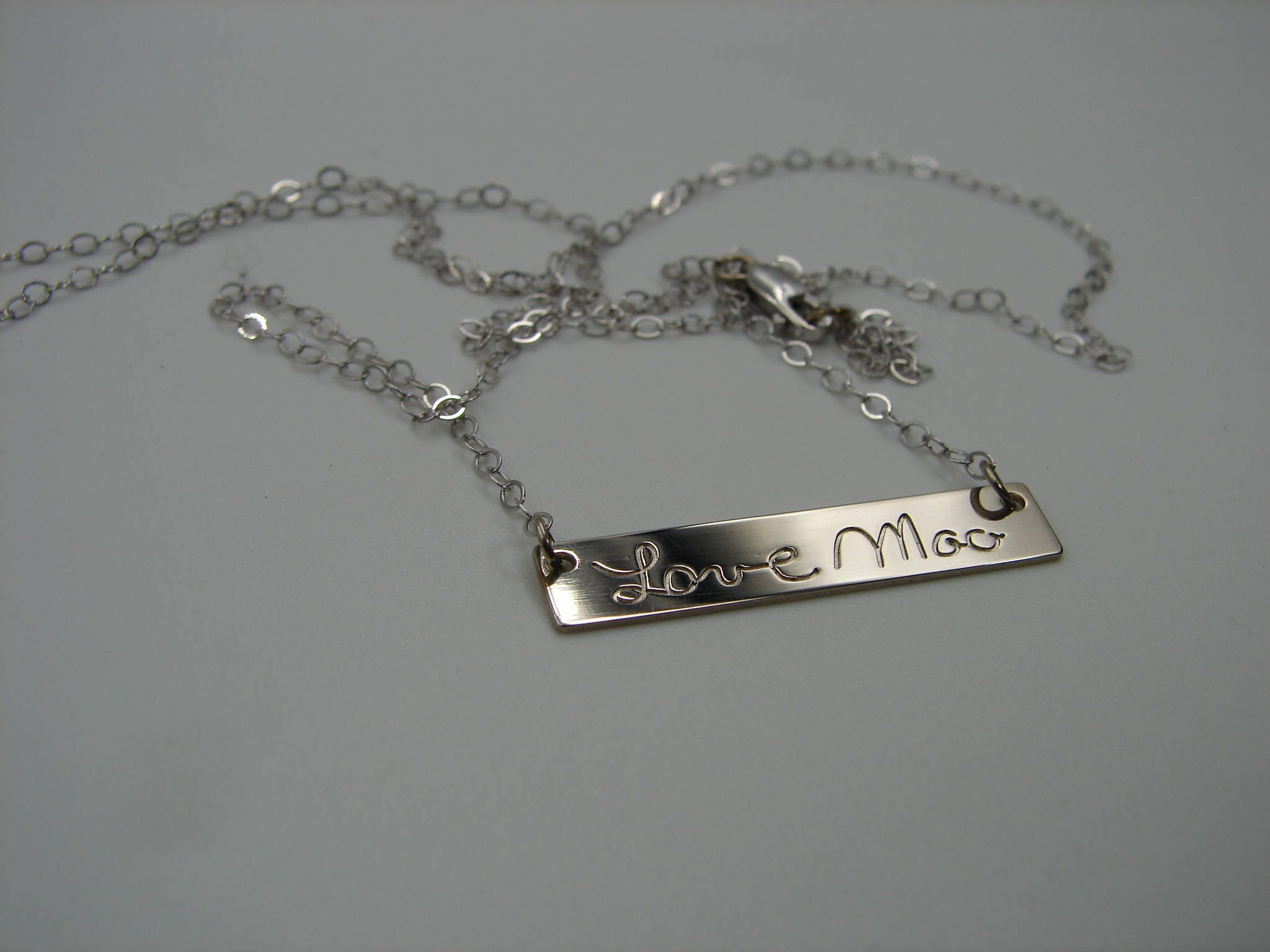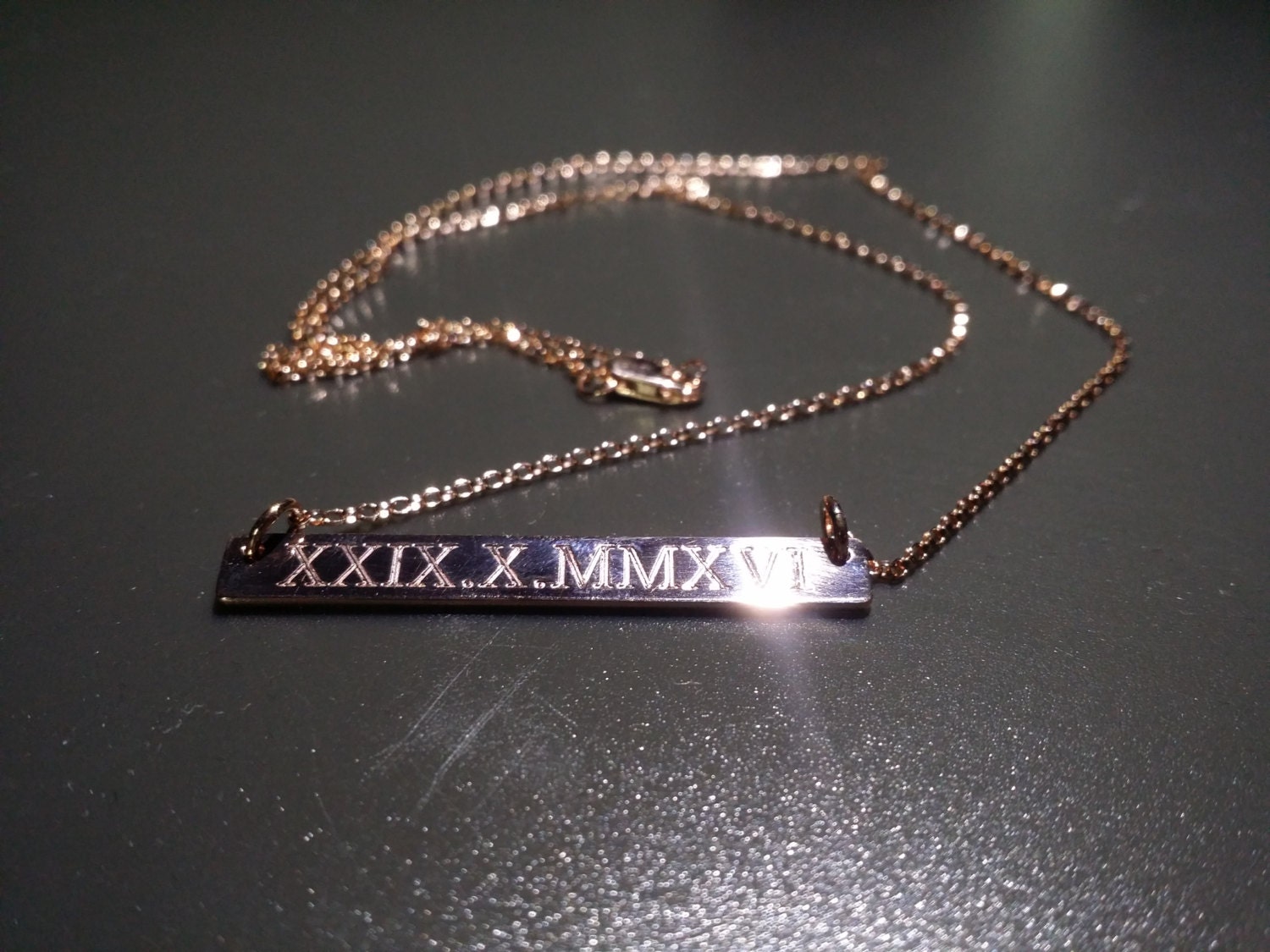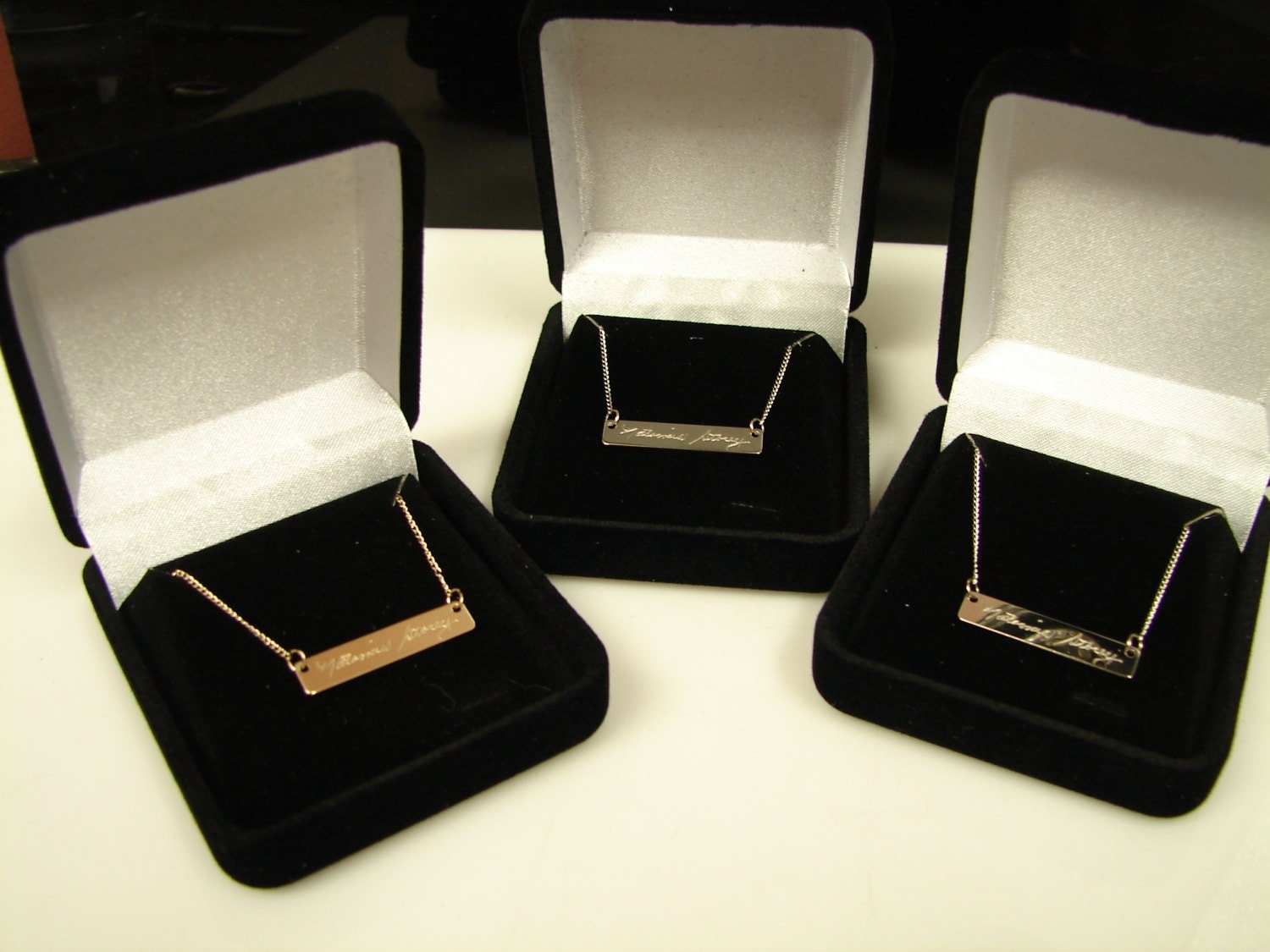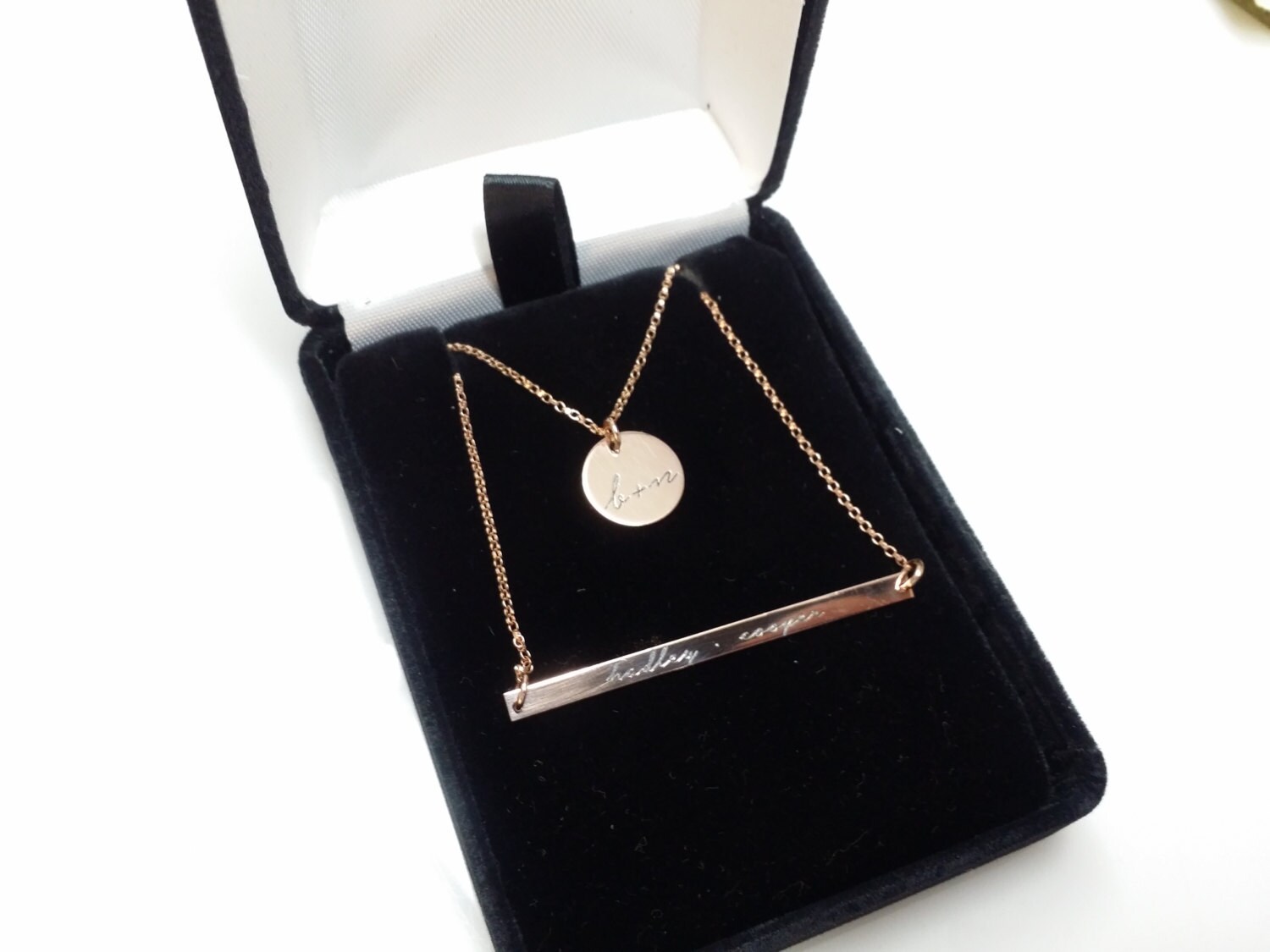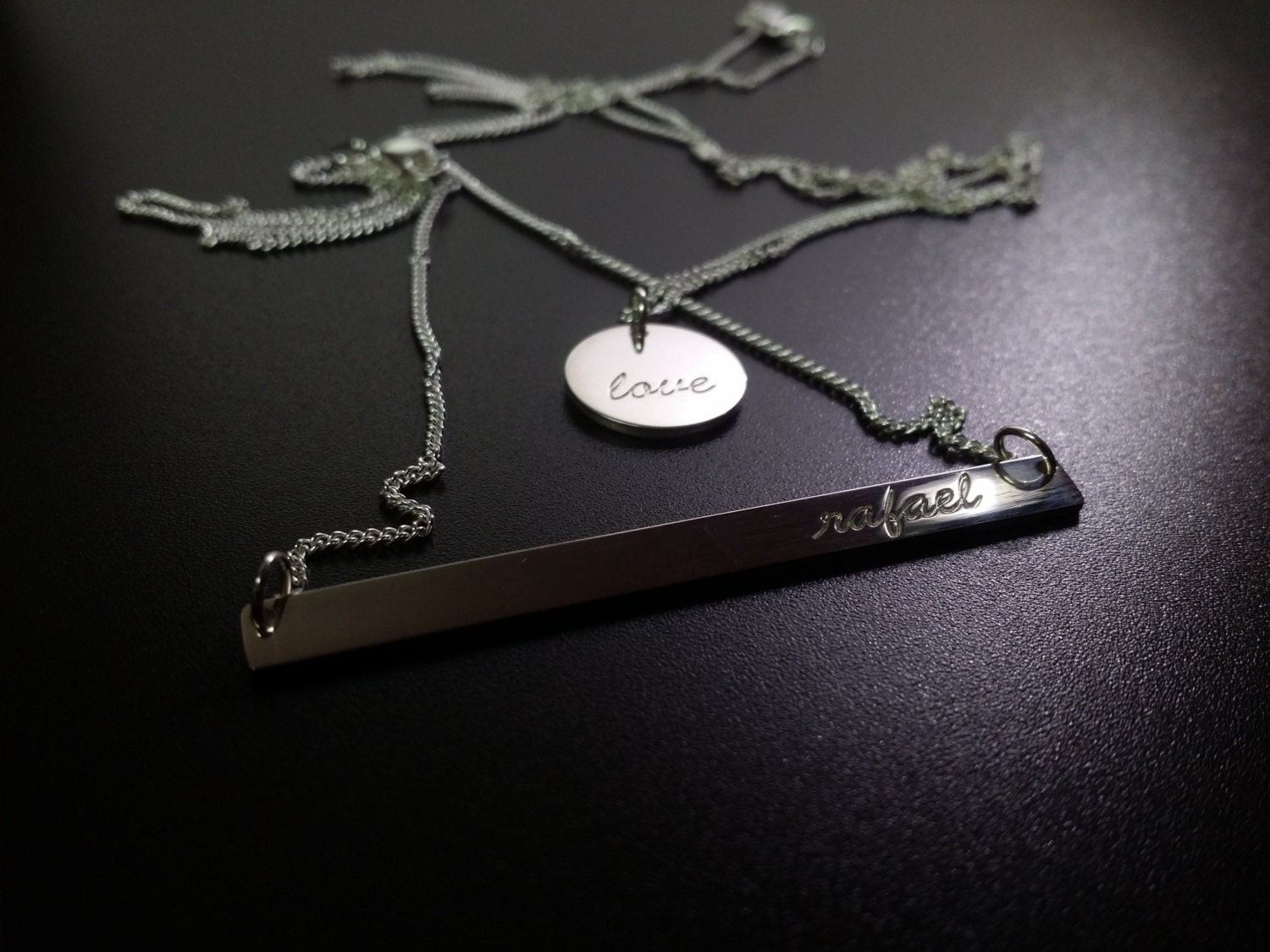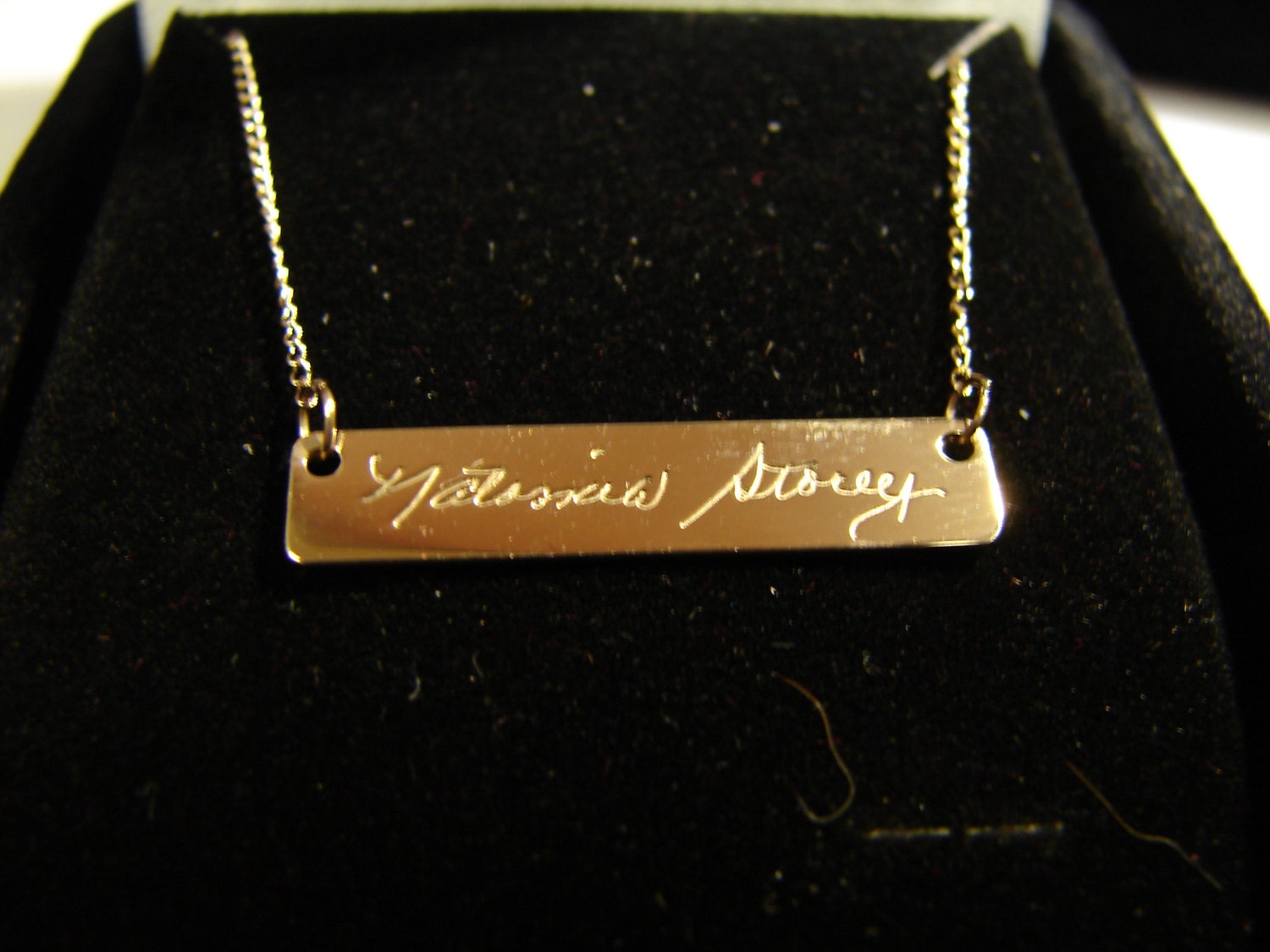 Please understand this bar is SOLID GOLD, NOT GOLD-FILLED. These are extremely high quality, high value, that will last forever.
If this is a gift for someone you care about and will have long term contact with or for yourself, go with solid gold. If this is for a coworker that will be gone in a week or a month, buy someone else's gold-filled bar.

WHAT IS INCLUDED

* For the listed price you get a 1 inch long just slightly less than 1/4 inch wide bar in a 22 gauge thickness. The listed price includes any engraving you want that fits comfortably in those space limitation. Engraving can be any font, handwriting, art, or virtually anything you have. Anything you have to be engraved, I can do.

*You also get a 14k yellow gold-filled chain with the 14k solid yellow gold bar or a sterling silver chain with the 14k solid white gold bar.
Chains can be upgraded to 14k solid gold, as seen under the option drop down. Solid gold chains literally cost more than the solid gold bars which has forced me to add solid gold chains as an option.
Chains can be up to 18" long. Please specify if you would like your chain less than 18 inches.

* You also get free first class shipping in a small gift box.

*You can receive faster priority shipping and a upgraded gift box found here < https://www.etsy.com/listing/269375566/gift-boxes-with-usps-priority-shipping?ref=shop_home_active_15 > The gift box you receive will be different that the Ring gift box in the photo. Your gift box will be for a necklace.

PLEASE NOTE
14k Rose is a special order and will need to be quoted. 14k rose is harder to get and there is much less of it available which makes it a little more expensive.


OPTIONS
*Options are special order and need to be quoted. That does not necessarily mean more cost. If it's less metal or even a different metal such as solid sterling silver or solid silver cost will be less.

*The pictures in this ad with the roman numerals was requested to be thicker and longer than this ads listed size. This was a wedding gift and the purchaser wanted a more valuable item that stood out a little greater. That particular item is 1 1/2 long and 18 gauge in thickness.

*As you can see in the last two pictures in this listing have circle pendants, those can be made as well. In fact, I purchase metal for these in sheets. I cut all my shapes right here in house one at a time to fill your order request. You can have any shape you want including heart, triangle, octagon, ANY SHAPE can be made. If you have a blob your daughter drew in crayon, I can do for you.

*The back can be engraved. Standard small engravings are an additional $15 as shown under the options drop down. Back engraving is free if upgraded chain to solid gold is selected.

*The engraving can be back filled with a black polymer enamel color for a bolder engraving at no charge. Other colors may be available. If it's a color I have in house we can use that at no charge as well. If it's a color I don't have there will have to be additional price added to cover the purchase of that color. If a back filling is not requested the item will ship without back filling.



ORDERING
*If you have question please message me. If you have handwriting or your child's blob for me to use are shape please message and attach that pic.

*If this is a straight forward order. Please just place the order leaving details such as font desired, requested engraving, metal choice, and chain length requested in the "Leave a comment for the seller" section when placing that order.




Thank you very much for viewing this listing.
Jim



Please visit < https://www.facebook.com/pages/Jim-Little-Jewelry/410210299092578 > for more images and ideas..
Payments
Currently I am only accepting all forms of payment.
Refunds
My items are custom made to order and can not be returned.
Additional
Unfortunately strict policies need to be put in place to avoid unpaid hours and hours sizing rings that were ordered with incorrect ring sizes. The way to avoid these cost is to have the ring finger physically sized. The worst cases are "gift rings" to which the purchaser in effort to avoid giving away the surprise does everything but order the correct ring size at which point I'm expected to correct the mistake without compensation. Other scenarios or old ring sizes and simple guesses at size.
The way to avoid these sizing cost is very simple, HAVE THE FINGER SIZED BEFORE PLACING THE ORDER. There will be no acceptations to ring sizing cost please do not ask. If you feel I made a mistake with sizing you can return the ring to which I will send you a picture of the ring on a sizer as proof the ring is on point or that I made error. If I find error with manufacturing the ring will be sized at no charge and returned.
I fully expect my stellar 5 star feedback will take a hit because nobody enjoys paying for their mistakes and will lash out with negative feedback in order to get back at me. However my generosity has been tramped on, to the point that these policies need be put in place.

If you find that a item is damaged. I will ask that you send the item in so that I can inspect the damage for oversights in manufacturing. If I determine the item was shipping with damage it will be repaired and returned. If I determine that damage was cause after shipping the item will be returned, the customer can pay to have item repaired, or replaced.

Lastly, my items are custom made to order. There is no returning these items. Customers have literally order wildly incorrect ring sizes and when faced with the need to purchase a new correct sized ring as for a refund.

I truly apologize for the need to incorporate these polices but again, I am being taken advantage of by customers who order incorrectly, do not understand their incorrect order is not my fault, and expect me to clean up the mess without compensation.


Re-sizeing ring from 1/8 to ¼ $25 plus shipping
Re-sizing ring from ¼ to ½ $50 plus shipping
Re-sizing ring from ½ to 1.0 $75 plus shipping

Rings that need over 1 full size will need be remade. A 20% discount on the new ring for the return of the old ring for scrap.

Items are all custom made to order and can not be refunded.


I will ask if you to acknowledge if you have read my polices. Again, the way to avoid all this is to have the finger sized. Local Target and Walmart all have ring gauges. While you are in shopping at either stop in the jewelry counter and size the finger. It literally takes 1 minute and saves me hours of sizing and you hours of frustration and additional cost.


Jim Little