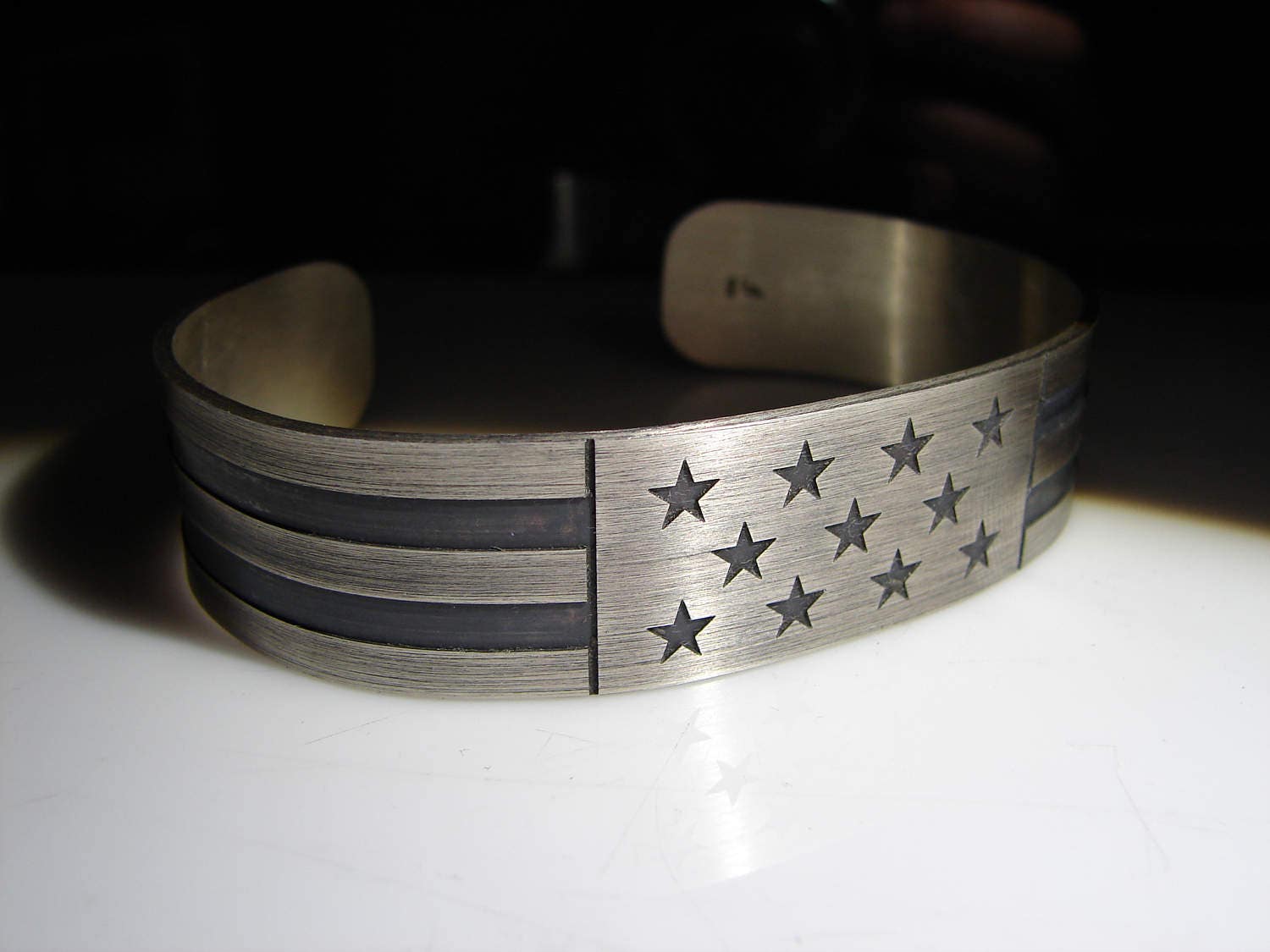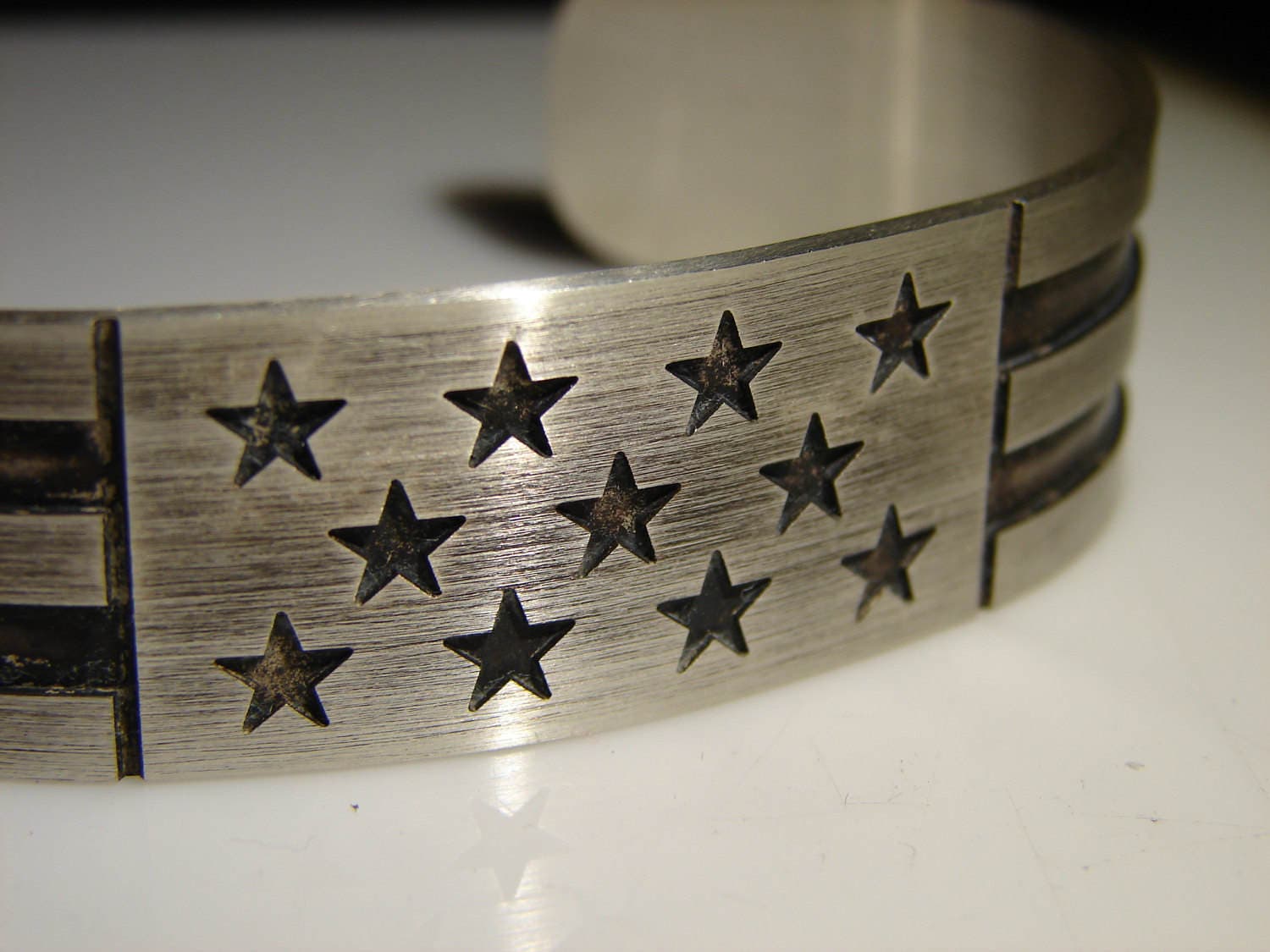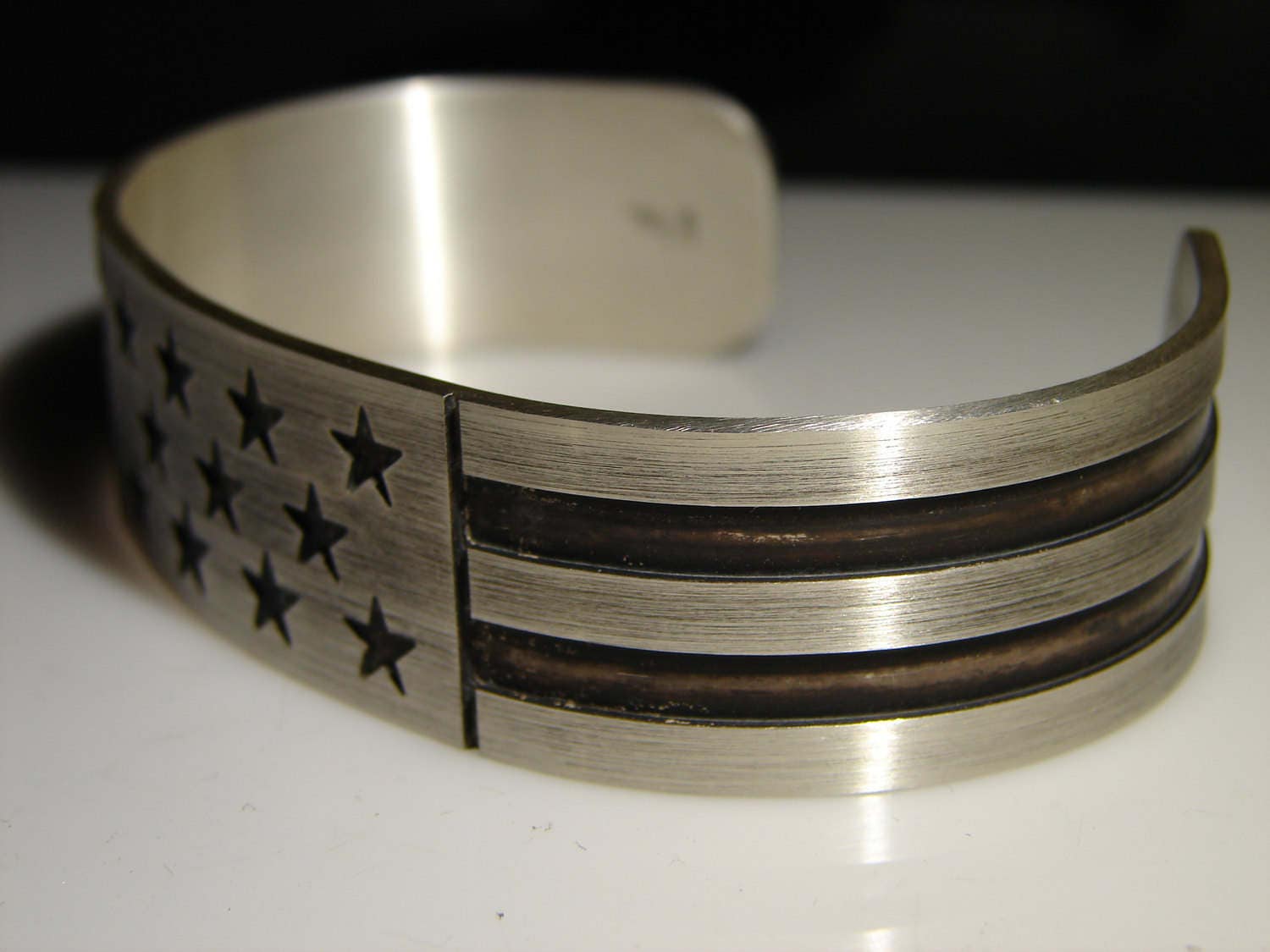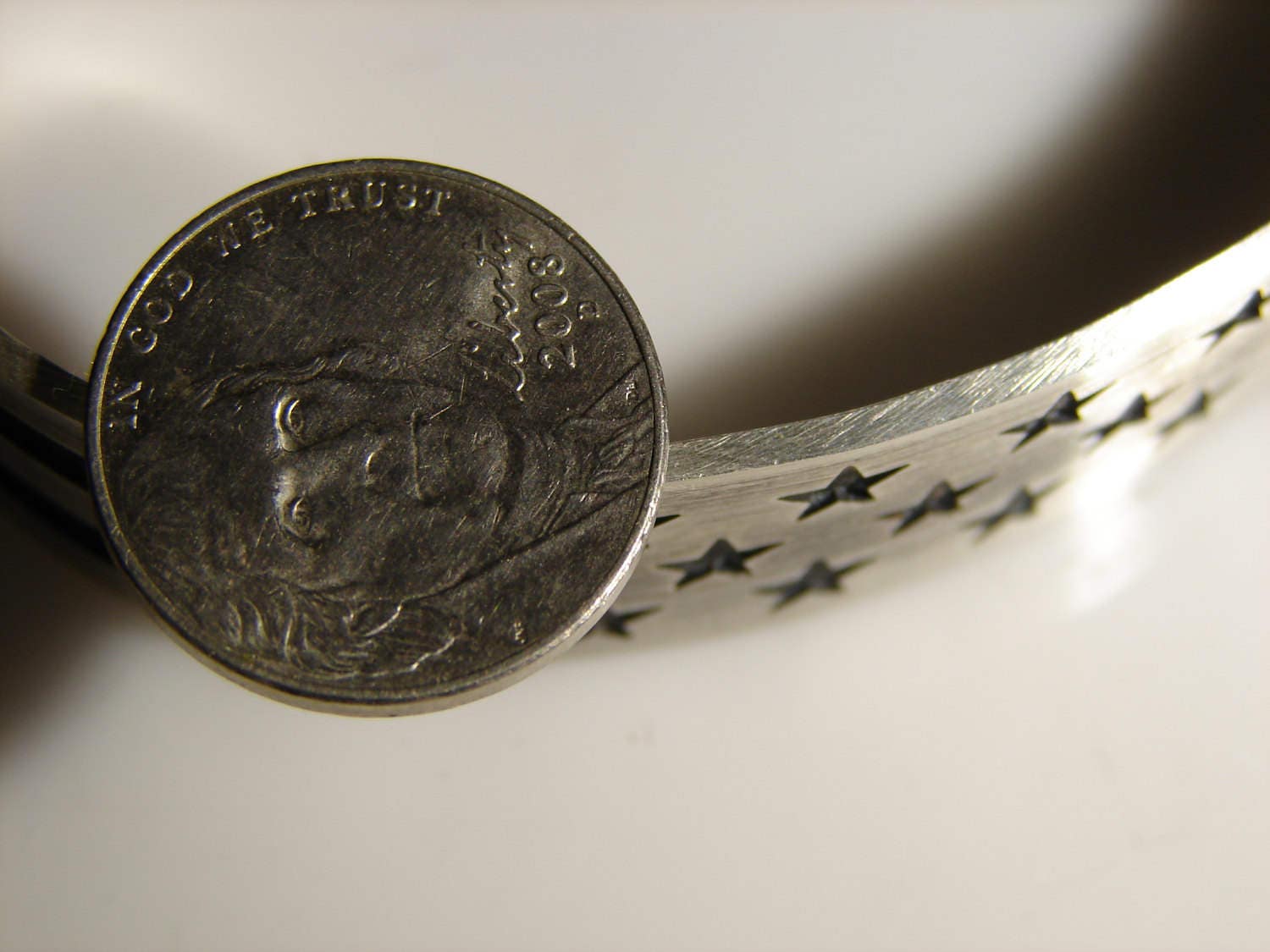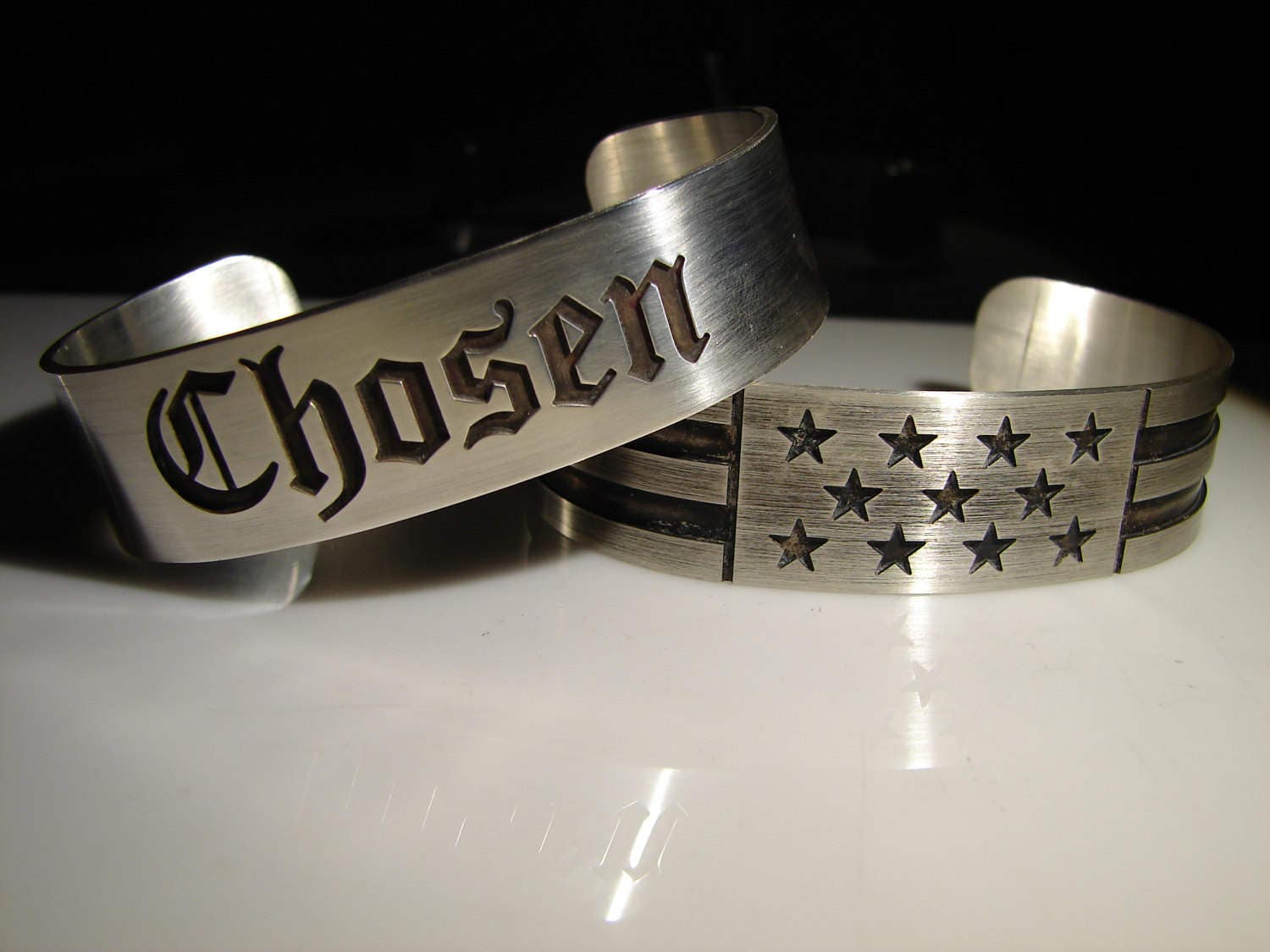 This thing is EXTREME!

The silver is 2mm thick, the band is 3/4 and inch wide and it's cutouts are over 1/2mm deep. The thing weighs over 2 ounces. You are not going to find a bigger chunk of metal this cool, this bold, for this price,,,,, anywhere!
The standard sterling is 6, 6.5, 7.0, or 7.5 inches in length but other lengths can be made.

Are you a proud American who likes BA things? Maybe you like the BOLD word "CHOSEN" which has many meanings in different subjects matters, from religious to personal reasons, to flat out attitude.

The silver version now comes oxidized in the engraved areas or can be left natural. Sterling cuffs come in a velvet sleeve, in a velvet hard shell gift box, they ship with a polishing cloth, and ship priority mail all free of any charges. In addition, inside engraving of a name and date are done at no charge.

They can have a polished finish, satin, or beaten up finish.

Please message me to discuss size.

Thank you
Jim Little

< https://www.facebook.com/pages/Jim-Little-Jewelry/410210299092578 >


Free insured shipping in the US.
Payments
Currently I am only accepting all forms of payment.
Refunds
My items are custom made to order and can not be returned.
Additional
Unfortunately strict policies need to be put in place to avoid unpaid hours and hours sizing rings that were ordered with incorrect ring sizes. The way to avoid these cost is to have the ring finger physically sized. The worst cases are "gift rings" to which the purchaser in effort to avoid giving away the surprise does everything but order the correct ring size at which point I'm expected to correct the mistake without compensation. Other scenarios or old ring sizes and simple guesses at size.
The way to avoid these sizing cost is very simple, HAVE THE FINGER SIZED BEFORE PLACING THE ORDER. There will be no acceptations to ring sizing cost please do not ask. If you feel I made a mistake with sizing you can return the ring to which I will send you a picture of the ring on a sizer as proof the ring is on point or that I made error. If I find error with manufacturing the ring will be sized at no charge and returned.
I fully expect my stellar 5 star feedback will take a hit because nobody enjoys paying for their mistakes and will lash out with negative feedback in order to get back at me. However my generosity has been tramped on, to the point that these policies need be put in place.

If you find that a item is damaged. I will ask that you send the item in so that I can inspect the damage for oversights in manufacturing. If I determine the item was shipping with damage it will be repaired and returned. If I determine that damage was cause after shipping the item will be returned, the customer can pay to have item repaired, or replaced.

Lastly, my items are custom made to order. There is no returning these items. Customers have literally order wildly incorrect ring sizes and when faced with the need to purchase a new correct sized ring as for a refund.

I truly apologize for the need to incorporate these polices but again, I am being taken advantage of by customers who order incorrectly, do not understand their incorrect order is not my fault, and expect me to clean up the mess without compensation.


Re-sizeing ring from 1/8 to ¼ $25 plus shipping
Re-sizing ring from ¼ to ½ $50 plus shipping
Re-sizing ring from ½ to 1.0 $75 plus shipping

Rings that need over 1 full size will need be remade. A 20% discount on the new ring for the return of the old ring for scrap.

Items are all custom made to order and can not be refunded.


I will ask if you to acknowledge if you have read my polices. Again, the way to avoid all this is to have the finger sized. Local Target and Walmart all have ring gauges. While you are in shopping at either stop in the jewelry counter and size the finger. It literally takes 1 minute and saves me hours of sizing and you hours of frustration and additional cost.


Jim Little